Successful team building is not just about finding people with the right skills and knowledge – it's also about bringing together a diversity of thinking styles and getting them to work together in the right way.
In the UK, Psychometric testing is said to be utilised by more than 75% of The Times Best Companies to Work For and also for 80% of the Fortune 500 companies in the USA.
The use of psychometrics to identify thinking preferences and personality types, can bring many benefits to businesses, from better communication to more collaborative ways of working leading to improved business results.
What is psychometric testing?
Psychometric testing is a way in which to understand a person's thinking preferences, reasoning or personality styles or cognitive ability. In businesses, these assessments can be carried out to better understand a person's way of thinking and how it leads to behaviours ie how they work and communicate individually, and within a team. They are a great way to understand and appreciate people's differences, which can help improve how teams work together.
Using psychometric testing to improve team ways of working
Used in the right way, psychometric testing can bring notable benefits to teams and their ways of working. By assessing your team as individuals and together, you will be able to understand and appreciate the different work and communication styles of each person and the benefits they bring to the team. By understanding each other and recognising what strengths and weaknesses each person brings, you will be able to identify more effective and productive ways of working.
Psychometric tools for teams
There are many great psychometric tools out there. Here are 2 that we have tried and tested which have been proven to bring better collaboration amongst teams.
Developed by Larry Cash, SuccessFinder is built with over 40 years of research. A pioneer in talent and success metrics the system is underpinned by statistical validation with over 40,000 individuals.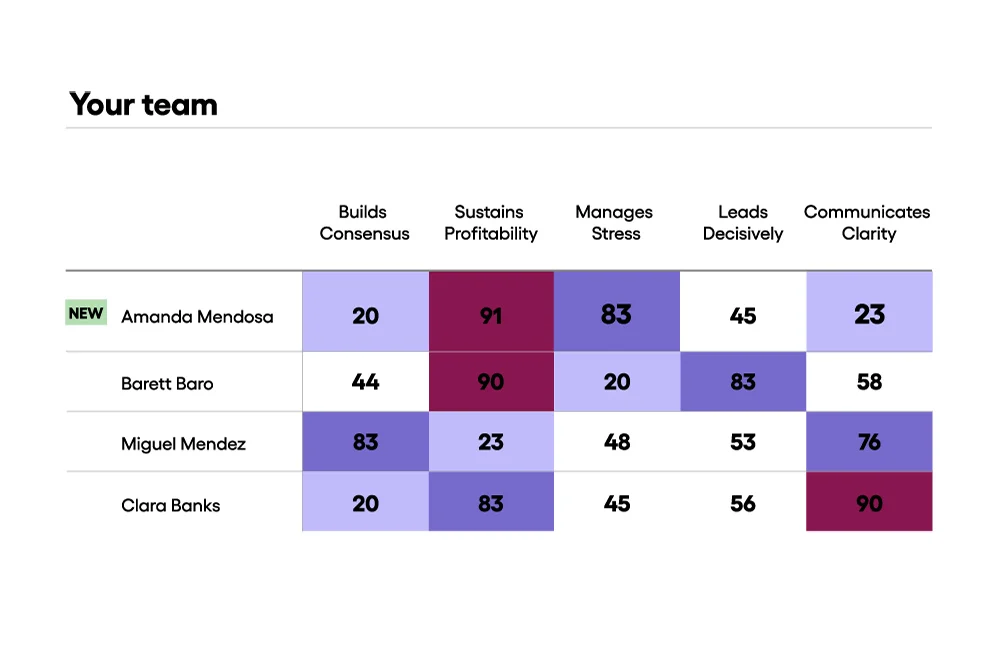 SuccessFinder is perhaps the most comprehensive measurement of thinking preferences and involves a comprehensive online questionnaire in which respondents are asked to answer forced-choice questions. Following that, an accredited SuccessFinder Consultant builds a comprehensively profile against 85 behavioural traits, 35 different interest areas and 26 competencies. By using the resulting traits of each individual, a Complete Team Profile can then be built showing the competencies necessary to build an effective and efficient team.
The 'Complete Team' Profile gives an overview of the fundamental five Competencies necessary for a team to achieve its mandate and achieve optimal team effectiveness, giving the opportunity for team development and growth.
The Complete Team is made up of 5 Team Competencies:
Builds consensus – Actively encourages others to cooperate, facilitates win-win
Embraces change – First to identify, discuss and initiate changes, enjoys high risk challenges, open-minded
Focus on results – Strong work ethic, multitasker, performs to full capacity
Leads decisively – Motivates others to perform at their best, 'maestro' – knows and organises the competencies of others
Promote compelling vision – Clear vision and passion for what the end goal could look like; good communicator
Developed by Ned Herrmann, HBDI Whole Brain Thinking Model is a psychometric model used to understand people's thinking preferences based on four integrated quadrants. These four quadrants are seen as the Limbic, Cerebral, Right, and Left parts of the Brain, giving Whole Brain Thinking.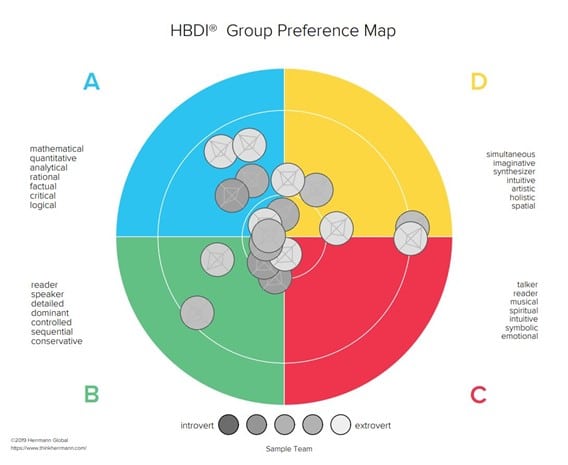 Using the skill of Whole Brain Thinking, people and teams are able to fully leverage their preferences, stretch to other styles when necessary, and adapt to and take advantage of the full diversity of thought within themselves and in those around them to be faster and agile, more responsive, more collaborative, and more productive.
After taking an online questionnaire each participant is given their 4-quadrant preference profile with a ranking of 1 (primary), 2 (secondary), or 3 (tertiary) for each quadrant based on the degree of preference for the respective quadrant attributes.
The questionnaire uses forced-choice questions to remove subjective answering and so give a true picture of behavioural and working preferences.  Not only that, but there is a section to understand behaviours when stretched or stressed, so participants can see further into what quadrant they shift to under pressure.
Having a preference profile gives a greater understanding of how and why we behave as we do, but also can help us realise and train ourselves when necessary to push into the other quadrants. Also, for team dynamics, we can see that for a high-performing team, a mixture of behavioural and thinking styles are needed.
People are your most important resource
At XPotential, we believe that your people are the most important resource in building brands, and we have seen that by investing and spending time on your people and teams not only improves communication, company culture and effectiveness, it decreases conflict, making for a more productive workplace, all of which promotes overall company success.
Want to hear more about how SuccessFinder or HBDI can help your teams? Contact us at theteam@xpotential.co.uk for more information.